Tania Leal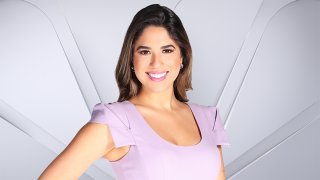 Tania Leal joined the NBC10 Boston and NECN family in July of 2021, and broadcasts weekend mornings.
As a broadcast ambassador for the American Meteorological Society's Committee for Hispanic and Latinx Advancement, a member of the National Association of Hispanic Journalists and the Radio & Television News Association of Southern California, Tania has gained atmospheric knowledge and experience across the country working as a bilingual meteorologist with sister station Telemundo in the western, central and now northeastern U.S.
She previously worked at KVEA in Los Angeles on weekday mornings, where she covered wildfires, earthquakes, mudslides and heat waves. Before that, she became the first woman in Lone Star Chapter history to win an Emmy as the Best Weather Anchor in the state of Texas.
Recognized for her three-dimensional weather presentations at KTLM, Tania worked weekday evenings. Utilizing a home-made technique she designed, she explained the depths of atmospheric behavior, covering severe thunderstorms, hurricanes, tornado threats and flood impacts to the community while engaging viewers with a distinct presentation. She is also the winner of multiple Emmy awards and an Edward R. Murrow Award.
She graduated college with a bachelor's degree in biology, an associate's degree in criminal justice and received her broadcast meteorology certification from Mississippi State University. She enjoys coaching and helping weather enthusiasts, creating augmented reality graphics and interacting with the community.
During her time off you'll find Tania exploring New England along with her husband and two dogs "Chewbacca" and "Leia." She enjoys picnics, riding horses, painting, hiking and sunsets.