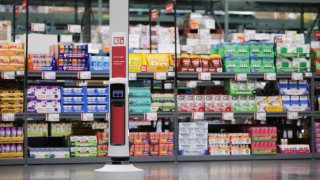 Marty, meet Tally.
Four years after Stop & Shop introduced Marty, the googly-eyed robot, to roam grocery store aisles to find spills or other hazards and alert employees, BJ's Wholesale Club is bringing a robot named Tally to its stores.
Marlborough-based BJ's said Tuesday it is working with Simbe, a robotics company that makes Tally robots, to traverse its aisles and collect data on which items are in stock, which are displayed in correctly and confirm they're accurately priced. A Tally robot is planned for each of BJ's 237 retail locations.
BJ's said it's working with Simbe to enable its employees to be more efficient and focused on customer service, while the new autonomous help enables for quicker restocking and easier inventory tracking.
"By deploying Tally in all of our club locations," BJ's chief operating officer Jeff Desroches said in a statement, "we will gain unprecedented insights which will leverage real-time data, enabling us to continuously improve our operation and ensure that we're offering the best possible experience to both our team members and members."
Copyright Boston Business Journal