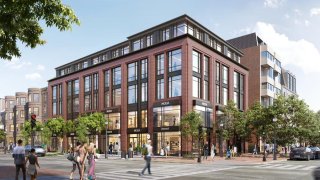 A court has thrown out a yoga apparel chain's lawsuit claiming a developer violated a lease agreement by denying the business space in a building now under construction on what the Los Angeles-based retailer called "the best corner in the Back Bay."
Alo Yoga filed the lawsuit in a Boston court in October, asking a judge to force L3 Capital LLC to honor a ground-floor lease at 149-155 Newbury St., a building at the intersection with Dartmouth Street that's expected to open later this year. L3 backed out of the agreement in order to rent the space to another tenant willing to pay more, according to the lawsuit.
While L3 never returned a signed lease to Alo, the deal should still be considered in effect based on L3 principals' actions and comments, the suit said, including one principal's alleged assurance that she would work with a bank to fully execute the lease.
But in a ruling late last month, the Massachusetts Land Court held that it's clear the lease never went into effect. A letter of intent and the lease agreement both contained language holding that the terms of the agreement would not be effective until the lease was fully executed, it found. In fact, the language is even more unambiguous than the example cited in a decades-old appellate court decision that established that parties to a business transaction have a right "to hug before they marry," the ruling said.
Copyright Boston Business Journal