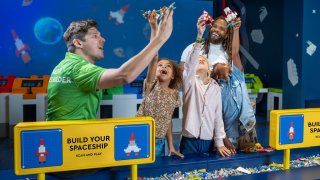 The Lego Discovery Center at Assembly Square in Somerville, which closed last fall for a $12 million renovation, will reopen on April 14 with what the company calls "new and reimagined popular experiences" including a space digital experience, a minifigure creator area and Duplo Park.
In an announcement of the grand opening date early Tuesday morning, The company said the new center in Somerville will be 43,000 square feet, which is slightly larger than the old space, and will feature 12 "zones." The company said it's "is designed to allow more family learning-through-play activities and will also include a new team of specialist Playmakers and Master Model Builders" who will run interactive workshops.
Among the new areas at the center are a "Spaceship Build & Scan" zone where visitors can design and build a Lego spaceship and "launch it into the digital universe" on a big screen; and an area where people can build their own minifigure, choosing from "a billion Lego heads, bodies, legs, and more," the company said.
In Tuesday's announcement, the company made no mention of its previously reported plans to move its headquarters from Connecticut to Boston. Last month, the company said it's searching for a new office in Boston for its 740 full-time employees now in Enfield, Connecticut, and that it plans to move starting in mid-2025.
The company said it's hiring for "various full-time and part-time positions" for the center, and is now selling tickets "to allow guests to visit within the first days and weeks of the grand opening."
Copyright Boston Business Journal