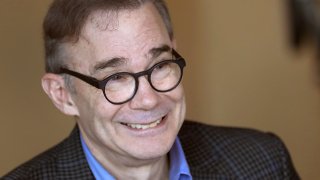 The former longtime head of Legal Sea Foods is entering the prepared-meals market as the new phase of his career.
Roger Berkowitz, who gained notoriety with Legal's wide footprint across the Boston area and beyond and for its eccentric advertising, is launching Roger's Fish Co., with fresh seafood and prepared meals mailed to customers' homes.
Roger's Fish Co. said it will include recipes, fish facts and stories from his decades running Legal, which came to an end in 2020 when the company was sold to Medford-based PPX Hospitality Brands, which also owns Smith & Wollensky and Strega.
Berkowitz's new company, announced Monday, will operate out of a New Hampshire facility, shipping with what Roger's Fish Co. calls a proprietary freezing technology for freshness. Meals include salmon, haddock, lobster macaroni and cheese, seafood pizzas and clam chowder.
Copyright Boston Business Journal