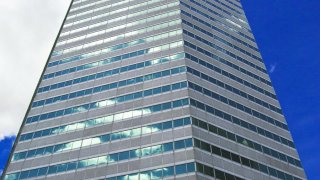 General Electric Co. will move its headquarters office to Boston's One Financial Center, leaving behind the Fort Point building that former CEO Jeff Immelt had chosen to be its home following the company's move from Connecticut.
GE will take just under 30,000 feet on the 37th floor of the downtown tower, located across from South Station, according to a spokesperson. It notified employees of the decision on Tuesday. The move is expected to take place in the second quarter of 2023.
The location will not be the company's headquarters for long, however. GE split off its healthcare business last month, and it plans to do the same with its energy business in early 2024. After that, the one-time conglomerate will essentially become its aviation division, which it has said will remain headquartered outside Cincinnati.
That means, less than a decade after its much-ballyhooed arrival in the city, GE's Boston headquarters will be no more.
Copyright Boston Business Journal