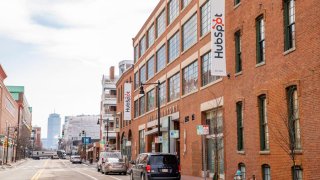 Ten large Massachusetts-based companies have earned a spot on Glassdoor's annual ranking of the 100 best places to work, up from nine last year.
Boston-based Bain & Company came in third place, while Natick's Mathworks and Boston Consulting Group also earned top-10 rankings, coming in sixth and seventh, respectively. Cambridge-based sales and marketing software firm Hubspot, which earned the top spot in 2020 and was the second-best workplace last year, is 11th on the 2023 list, which Glassdoor announced Tuesday night. 
With Boston-based financial services giant Fidelity ranking 18th — up from 59th last year — five companies headquartered in the Bay State made the top-20. A handful of other companies with large Boston-area presences are featured on the list, including McKinsey & Company (4th), Google (8th), Slalom (12th), Microsoft (13th), Red Hat (27th) and Dell (64th).
The annual rankings from the California-based career site are based on anonymous feedback from employees on their jobs, work environments and employers over the last year. The ratings are based on a five-point scale.
Click here to see all 10 Massachusetts-headquartered companies that made Glassdoor's list in the Boston Business Journal.
Copyright Boston Business Journal