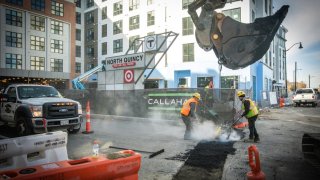 Homeowners and renters alike know how expensive it is to live in the Boston area. High interest rates have helped keep prices in check, but expensive new construction and a tight inventory continue to boost costs.
The Boston area ranked 12th nationally last year with a median single-family home price of $685,600, and fourth in condominium prices with $564,800, according to the National Association of Realtors. It's third in median rent, at $2,990 a month for a one-bedroom apartment, according to Zumper's latest data in February.
The Boston Business Journal asked local housing and affordability advocates what Gov. Maura Healey's administration should prioritize.
One initiative is the MBTA Communities Act, which requires municipalities with a station, including commuter rail, or abutting a community with one to create zoning for denser, multifamily housing districts next to those transit stops. Former Gov. Charlie Baker put the law into place, and now, Healey's office, along with Attorney General Andrea Campbell, are working to enforce it in those 177 cities and towns.
Several advocates cited that program, as well as the Tenant Opportunity to Purchase Act, a state bill that would help housing tenants buy their housing unit, including through a requirement that they be notified of the sale and given a chance to match other offers.
Copyright Boston Business Journal