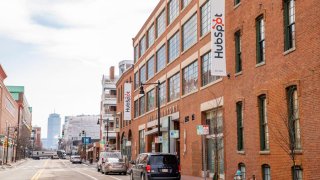 As many other tech employers, Cambridge-based HubSpot Inc. is eliminating hundreds of positions, citing a slowdown in business.
The Cambridge marketing tech firm said on Tuesday it is cutting the size of its team by 7%, approximately 500 "HubSpotters."
Sophie Hamersley, a spokesperson for HubSpot, wrote in an email that HubSpot is closing its Davenport office space at 25 First St. and "consolidating employees" in its 2 Canal space.
"This will help us maximize the office footprint we need for our hybrid workforce and be a more efficient company," Hamersley wrote.
She did not immediately say whether 2 Canal will be the new headquarters of the company. As of Tuesday, HubSpot lists 25 First St. as its headquarters address on its website and official filings with the U.S. Securities and Exchange Commission.
Copyright Boston Business Journal