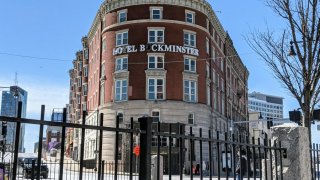 Lab conversions in Boston are far from unprecedented. Turning a potential landmark into life sciences space? That's unusual.
But that's where IQHQ Inc. finds itself with the Hotel Buckminster property in Kenmore Square.
An affiliate of the California-based lab developer filed a letter of intent with the Boston Planning and Development Agency earlier this week to turn the hotel and adjacent sites on Beacon Street into a 215-foot-tall, 461,300-square-foot life sciences building. The plan is to demolish two buildings behind the former hotel to make way for new construction, which would "connect floor-to-floor" with the Hotel Buckminster, according to the letter.
The hotel "would be substantially renovated in connection with the redevelopment," IQHQ said in the filing. As is typical with letters of intent, there were few details. Those will come in another filing that IQHQ said it plans to make to the BPDA next month.
Copyright Boston Business Journal