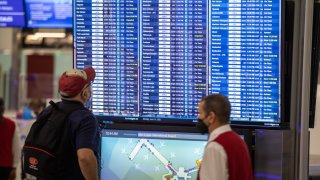 Logan International Airport is opening the first Chase Sapphire Lounge by The Club in the United States, bringing a fast-growing luxury travel amenity to Boston.
The lounge, in the new Terminal B to C Connector that's one of Logan's ongoing capital improvements, will open May 16 with a series of notable local touches.
Food will come from Douglass Williams, the chef behind the Boston restaurants Mida and Apizza. The coffee will come from the North Shore's Atomic Coffee Roasters, and other refreshments from Boston-based brewery Castle Island and cider maker Downeast, and Worcester's Wormtown Brewery. It will also feature original works by local artist Silvia López Chavez.
The 11,640-square-foot space will feature what Chase calls "micro living rooms" to sit and relax, as well as massage chairs, a nursing room, shower rooms and other amenities.
The world's first Chase Sapphire Lounge opened last fall in Hong Kong's airport, according to Insider. Other U.S. locations are slated to open in New York's LaGuardia Airport, at Dallas-Fort Worth, Philadelphia, Phoenix and San Diego, according to the travel website afar.com. A similar feature, a Chase Sapphire Terrace, opened in March at the airport in Austin, Texas.
Membership is reserved for Chase Sapphire Reserve card holders.
Copyright Boston Business Journal