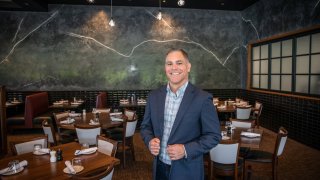 In just two years, Burtons Grill will mark the 20th anniversary since its first location opened in Hingham. But with a new CEO and new owners, the Andover chain is now focused on expanding its locations down the East Coast and fine-tuning its newer and smaller Red Heat Tavern chain in anticipation of its potential growth.
Leading the charge is John Haggai, a restaurant industry veteran who got his start at an Outback Steakhouse in Florida. He opened the first Boston-area Outback in Peabody in the 1990s, and later, he left to start his own restaurant group in Virginia called Tazza Kitchen. He became the Burtons CEO late last year.
Burtons, which was bought last year by Andover-based Streetlight Ventures, will open its 19th location this summer in Richmond, Virginia, and a 20th this upcoming winter in Plantation, Florida. Haggai spoke with the Business Journal about the company's growth plans, how it changed during the pandemic and how its two restaurant chains complement one another.
More on this story from Boston Business Journal
Copyright Boston Business Journal