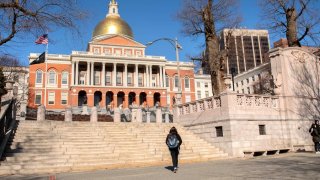 State leaders say they aren't seeing signs that the so-called "millionaires tax" is already driving additional taxpayers out of Massachusetts, but flight and tax avoidance are still concerns among officials and economists crunching the numbers this budget season.
Department of Revenue Commissioner Geoffrey Snyder told lawmakers in a consensus revenue hearing at the State House Tuesday that he doesn't "believe we've seen anything in the tax receipts at this point" indicating a trend that Bay Staters are leaving.
But it's still early. The 4% surtax on income over $1 million just went into effect this month after voters' approval in November. Some experts are predicting the revenue will be highly volatile, while its uses and the full impacts of the tax come under the spotlight as economists and state officials brace for an economic slowdown.
Anecdotally, out-migration is "part of the discussion" among DOR officials, Snyder told state Rep. Aaron Michlewitz, who chairs the House Ways and Means Committee.
"As we have talked at some of our meetings with some of the outside advisors that we speak to, it is top of mind, and it is something we'll have to continue to monitor as we go forward," Snyder said.
Copyright Boston Business Journal