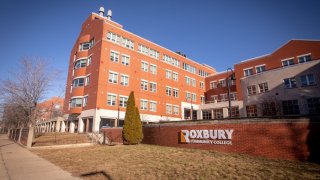 During the Great Recession, unemployment spiked, and many people returned to school to earn a degree or a new professional certification. Community colleges saw enrollment soar.
But the same phenomenon didn't take place when unemployment quickly spiked early during the Covid pandemic. Instead, community colleges that already had been facing declining enrollment saw numbers drop off at an even sharper rate. When unemployment fell back to pre-pandemic lows, the issue worsened still.
Statewide, community college enrollment is down 41% on a full-time equivalent basis in the past decade, according to the Department of Higher Education. It's down 23% just since the 2019-2020 school year, the last to start before the pandemic.
Plummeting student counts has sent Massachusetts community colleges scrambling — and looking for signs of optimism wherever they can get it. Roxbury Community College enrollment, already the state's lowest, fell 44% in just three years, but took what Interim President Jackie Jenkins-Scott called a very slight increase for the spring semester.
"We'll take whatever we can get," she said. "We're extremely happy about that. But it's extremely modest."
Copyright Boston Business Journal