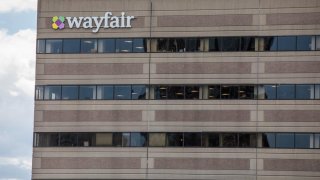 Boston-based online furniture retailer Wayfairer Inc. announced Friday that it's laying off 1,750 workers, about one-tenth of its entire workforce.
The cuts include 1,200 corporate workers, about 18% of all corporate employees at Wayfair.
CEO Niraj Shah sent a company-wide email Friday annoucing the layoffs, calling the move "important changes to reshape our business for the future."
"We wish we could have shared this sooner, in light of the speculation these past few weeks, which I know has been hard," Shah added.
Laid-off employees in North America were being notified by email Friday. They'll be offered severance and extended benefits.
The Wall Street Journal had reported on Thursday that Wayfair was preparing to cut more than 1,000 workers, citing "people familiar with the matter."
Boston Business Journal reported that the company already cut 870 workers, or 5% of its workforce, last summer, as part of a renewed focus on cost efficiency and path to profitability. At that time, it told the Business Journal that 400 people living in Massachusetts were affected, but counted workers as "local" in a different way when reporting layoffs to the state. 
NBC/Boston Business Journal