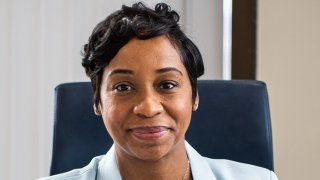 Massachusetts Attorney General Andrea Campbell notified cities and towns on Wednesday that they could face legal action from her office if they do not comply with a new law meant to spur multifamily development near MBTA lines.
Each of the 175 municipalities subject to the MBTA Communities law must comply with the legislation, Campbell's office said in an advisory. Under the law, cities and towns are supposed to zone one area within half a mile of a transit station to allow for apartment or condo projects "as of right." The measure, championed by then-Gov. Charlie Baker and enacted in 2021, is meant to address the region's housing crisis by building transit-oriented projects.
A handful of cities and towns have not complied with the law so far, saying they would rather give up the MassWorks, Housing Choice and local capital projects state funding tied to compliance than permit the development envisioned by the statute.
Campbell held in the advisory that "communities that fail to comply with the law may be subject to civil enforcement action."
"Importantly, MBTA Communities cannot avoid their obligations under the law by foregoing this funding," the advisory said. "The law requires that MBTA Communities 'shall have' a compliant zoning district and does not provide a mechanism by which a town or city may opt out of this requirement."
Copyright Boston Business Journal