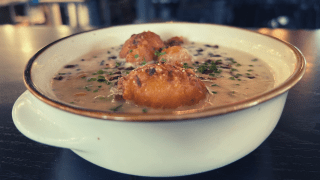 INGREDIENTS:
½ cup raw bacon, minced
4 tbs. butter
¼ cup celery, medium diced
¼ cup onion, medium diced
¼ cup carrot, medium diced
¼ cup fennel, medium diced
1 tsp. fresh thyme leaves
2 ea. bay leaf
¼ cup all-purpose flour
2 ½ cups clam juice
2 cups quahog meat, large diced
½lb. Idaho potatoes, peeled, diced & cooked separate until just cooked
2 tbs. finely chopped parsley leaves
2 tbs. finely chopped fresh chives
1-2 cups heavy cream
Salt and pepper
Garnishes
¼ cup black pepper bacon bits
1 cup smoked oyster crackers
2 tbs. chives, finely minced.
PREPARATION:
Melt butter in a heavy large pot over medium heat.
Add bacon and cook until bacon begins to brown, about 8 minutes. Add vegetables, thyme and bay leaf and sauté until vegetables soften about 6 minutes.
Stir in flour and cook for 2 minutes (do not allow the flour to brown).
Gradually whisk in clam juice.
Add quahog meat.
Simmer chowder for 10-15 minutes to blend flavors, stirring frequently.
Finish with fresh herbs.
Cool chowder base until ready to use.
When you are ready to use, heat with enough heavy cream until desired consistency and re-season if necessary.
Garnish with black pepper bacon bits, oyster crackers and minced chives.
Black Pepper Bacon Bits
1 cup bacon bits
1 tsp. + ½ tsp ground black pepper
Preheat the oven to 300ºF.
Mix bacon with black pepper and spread on a cookie sheet and bake for 20 minutes or until crisp.
Strain fat then toss in an additional
½ tsp black pepper.
Store at room temperature
Smoked Oyster Crackers
2 cups oyster crackers
2 tbl. butter, melted
Smoked salt
Preheat the oven to 350ºF.
Mix smoked salt and butter in a small pot and melt.
Place crackers in a medium-sized bowl, pour mixture over crackers and toss until all crackers are coated.
Bake for 4-6 minutes.
Remove from the oven, and allow to cool.
Watch below to see chef Jason Santos and Anna make this delicious recipe!