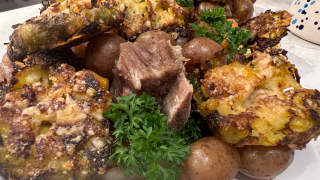 INGREDIENTS:
1-2 LBS Brussels sprouts, trimmed and cleaned.
¼ cup mustard, Dijon, country style, or a combination are nice
¼ cup extra virgin olive oil
1 tsp garlic powder
1 tsp dried oregano
3 TBS parmesan, finely ground
½ cup parmesan, finely grated
PREPARATION:
In a steamer basket over boiling water, steam Brussels sprouts until they are tender. Depending on the size, this will take 12-20 minutes. When they are cooked through, lay them out on a large baking sheet and let them cool, and let the steam evaporate so they are dry to the touch.
Meanwhile, preheat your oven to 425*. In a medium bowl, whisk together the mustard and olive oil until smooth. Add garlic powder, oregano and ground parmesan.
In a separate bowl, have ready the grated parmesan.
Take a heavy glass jar and firmly smash down each Brussels sprout until it is about ¼-½ " thick.
Dredge and smother each individual smashed Brussels sprout through the mustard mixture and then encrust in grated parmesan.
Evenly arrange the dressed Brussels sprouts on a baking sheet. TIP: For optimal crispness, avoid using parchment paper or foil. It is direct contact with the baking sheet that achieves the best texture.
Bake for 18-22 min, flipping half way through or until cheese has melted and crisped.
Pull from oven and run a spatula under each Brussels sprout and allow to cool for 4 minutes before serving at optimal crispness.
Watch below to make this recipe step-by-step with Anna!