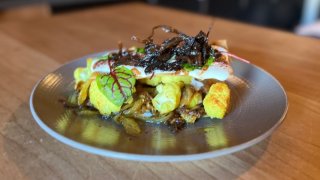 **Serves 6**
INGREDIENTS:
3 Arabic-style round pitas about 10 inches in diameter
About ¾ cup extra virgin olive oil
1-pound cauliflower
3 onions, peeled, cut in half, and sliced
1 tablespoon ground cumin
2 teaspoons of really good ground turmeric
Pinch of ground allspice
½ teaspoon fresh ground black pepper
1-3 tablespoons water
6 tablespoons butter
6 tablespoons pinenuts
1 ½ cups whole milk yogurt
1 tablespoon ground sumac
Maras pepper to taste
PREPARATION:
Preheat oven to 375 degrees.
Trim the edges of each pita so that you have a large square.
Cut each square into 2 equal-sized rectangles and peel them apart so that you have 4 rectangles from each pita.
The rectangles should be 6-7 inches.
Place the pita pieces in a large bowl and coat evenly with half a cup of olive oil.
You may need to do this in two batches.
The purpose is to massage the oil into the bread until it is very evenly coated and has no dry spots, so it will become very crisp, rather than chewy or hard when baked.
Lay the pita pieces on a baking sheet.
Using a pastry brush, fill in any dry spots with more oil as needed. Bake until golden brown and crisp, 8-9 minutes. Let cool and set aside.
In a sauté pan, cook the onions in 1 tablespoon olive oil over medium-high heat until the onions begin to wilt.
Reduce the heat to medium-low and cook, stirring frequently, until golden brown, 18-20 minutes.
If the onions start to brown too quickly, add 1-3 tablespoons of water or lower the heat.
Stir in the cumin, turmeric, allspice, and pepper and continue to cook until the spices are fragrant, 2-3 minutes more.
Season with salt and set aside.
In another sauté pan, sauté the cauliflower in a pan with 2 tablespoons of olive oil until lightly browned.
Add 1 tablespoon of butter and 1 tablespoon of water after they have browned and continue to cook until they become tender.
Season with salt to taste
In a third saucepan, melt the remaining butter and add the pine nuts.
Cook over low heat, stirring until the pinenuts turn golden brown, 5-7, minutes. Allow them to cool in the butter.
In a small bowl, whisk together the yogurt, ½ teaspoon salt, and 1 tablespoon olive oil.
To serve, place a spoonful of yogurt sauce on the bottom of a shallow bowl or plate.
Put 1 rectangle of pita on top of the yogurt and smother it with 2 tablespoons of onion and a big spoonful of Romanesco.
Top with another pita and spoon yogurt sauce on top again.
So, you will have a couple of pieces of pita sandwiched with onions and Romanesco with yogurt sauce on the bottom and top. Spoon melted butter and pinenuts over the top and sprinkle with sumac.
Crush with a spoon or knife and fork and eat.
Watch below to make this dish side-by-side with chefs Ana Sortun and Anna Rossi!