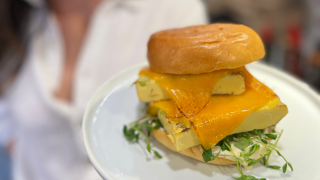 INGREDIENTS:
10 eggs
1 cup whole milk
1 tsp mushroom umami powder or chicken bouillon
⅓ cup scallions, thinly sliced
brioche buns
½ cup mayonnaise
2 tbs +/- your favorite hot sauce, Melinda's is delicious
sliced cheese, American, or cheddar is nice
baby arugula or watercress for serving
PREPARATION:
For the egg custard:
Preheat the oven to 375*. Line a nonstick 8x8" baker with parchment paper and spray with nonstick spray. Place the 8x8" baker inside a larger baker (9x13").
In a large bowl, combine eggs, milk, and mushroom umami or bouillon. Vigorously whisk until the mixture runs loose like water through the whisk. An emulsion hand blender can also be helpful.
Transfer the egg mixture into the 8x8" baker passing through a fine mesh colander to collect any small egg clumps that haven't been whisked out.
Top the egg mixture with scallion.
To create a bain-marie, carefully pour warm water into the larger baker so it reaches halfway up the outside of the 8x8" baker.
Carefully place in the oven and "cap" the bain-marie with a large baking sheet or cover in foil so the steam cannot escape.
Bake for about 40 minutes. The center should be a little jiggly but not gooey.
Remove the custard from the baking dish on the parchment paper and place it on a cutting board. Cut into the desired size and place cheese on top to melt while the eggs are still warm.
To serve:
Toast bun.
In a small bowl, whisk together mayonnaise and hot sauce. Smear the bun generously with the spicy anise and top with egg, cheese and greens. Enjoy warm.
Watch below to make the recipe side-by-side with Anna!