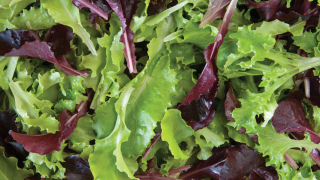 INGREDIENTS:
1/4 cup jarred pickle brine/juice
1/4 cup extra virgin olive oil
1 tsp shallot, finely minced
1/2 tsp garlic, minced
1/2 tsp Dijon mustard
1/2 tsp honey
Salt & Pepper to taste
PREPARATION:
Combine pickle brine, olive oil, shallot, garlic, mustard, & honey in a mason jar and shake vigorously for 30 seconds until visually creamy and nicely emulsified. Taste. Add salt and pepper to taste. Note: pickle brine has a lot of salt in it so you may find that you don't need to add any more. Taste, taste, taste:)
This is light and delicious over mixed greens or butter lettuce.
Watch below to make this step-by-step with Anna Rossi. Plus, pair it with her scrumptious Sicilian Sausage Bread!