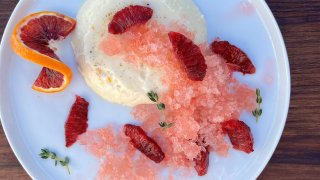 INGREDIENTS:
For the Panna Cotta
4 tsp gelatin powder
1 cup heavy cream
1 cup whole milk
¼ cup honey
1 vanilla bean, split and scraped
¼ cup gin
Zest from ½ orange
For the Granita
4 cups water
2 TBS granulated sugar
½ cup Campari
2 TBS Sweet Vermouth
PREPARATION:
For the Panna Cotta
Over low heat, scald the cream and milk and vigorously whisk in the gelatin powder. Add the vanilla bean pod and scrapings to steep. Off the heat, whisk in honey and gin.
Place in small ramekins or cups and chill at least 1 hour or until set and slightly firm. Serve chilled.
For the Granita
Add all ingredients to a wide baker and freeze for 4 hours. Every 30 minutes, scrape the mixture with a fork to create an icy, fluffy texture. Serve cold.
Watch below to make this recipe side-by-side with Anna!