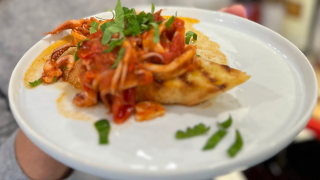 INGREDIENTS:
1 ½ Lbs squid, tubes, and tentacles
¼ Cup extra virgin olive 0il
3 Cloves garlic, crushed
1 Large sprig of rosemary
Zest from 1 orange
1 Fennel bulb, fronds, core removed and thinly sliced
½ Red onion, thinly sliced
1 Lemon, juice & zest
12 Oz olives, pitted (Sicilian and Kalamata are both nice
12 Oz marinated artichoke hearts
¼ Tsp red pepper
PREPARATION:
In a large bowl, combine whole tubes, tentacles, extra virgin olive oil, crushed garlic, rosemary sprig, and orange zest. Let this marinate for at least 30 minutes in the refrigerator.
Preheat your grill to high. Grill the tentacles and tubes for about 6 minutes or until cooked through. Let cool for about 10 minutes before slicing tubes into ¾" wide rings and place in a large mixing bowl.
Add sliced fennel and red onion, lemon juice & zest, olives, and artichoke hearts to the grilled calamari. Taste. Add red pepper, salt, and cracked pepper to taste. You can also add more lemon juice and extra virgin olive oil to adjust the flavor.
Enjoy!
Watch below to make this step-by-step with Anna Rossi!