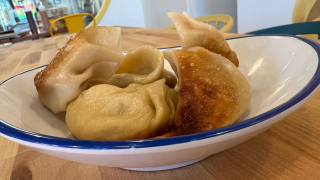 **Makes about 24 dumplings**
INGREDIENTS:
1 pound sweet potatoes [about 2 medium-large potatoes]
4 tablespoons [2 ounces; 55 g] butter
½ small onion, diced
1 clove garlic, minced
5 sage leaves, minced
½ cup [75 g] chevre
¼ teaspoon salt
store-bought dumpling wrappers
PREPARATION:
Preheat the oven to 425 degrees.
Wrap the sweet potatoes in foil and place them on a sheet pan or baking dish. Roast for 45 minutes or until the sweet potatoes can easily be pierced by a fork.
Meanwhile, place the butter in a small saucepan and turn the heat to medium. Let the butter cook, stirring occasionally, until the milk solids start to brown and it smells nutty about 8 minutes. Add the onion and garlic and sauté for 2 minutes, turning the heat to low if the butter starts to darken more than a medium brown. Add the sage and cook for another 2 minutes, then remove from heat and set aside to cool.
When the potatoes are done roasting, unwrap and let them cool, then remove and discard the skins. Place the sweet potatoes into a large bowl and add the brown butter sage mixture, cheese, and salt. Mash everything together until the mixture is thoroughly combined, leaving a few sweet potato chunks for texture. Taste for seasoning before folding into dumplings.
Watch below to make the perfect dumplings with Chef Irene Li & Anna Rossi!