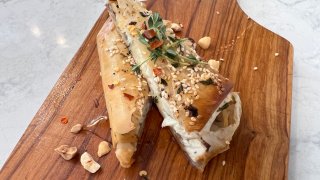 INGREDIENTS:
1 brick of fresh feta, approximately 1"x3"x4"
2 sheets phyllo dough
2 TBS browned butter, melted
7 threads of saffron, optional
1 tsp seasoning of choice, fresh herbs or harissa, everything bagel seasoning or provincial herbs are all nice options
1 TBS honey
Maldon salt for garnish
PREPARATION:
Preheat oven to 400*.
Place the brick of feta on a paper towel to wick away brining water.
Steep saffron in warm, melted browned butter for 10 minutes to infuse with flavor.  If you don't have saffron or feel like going through the extra step of browning butter, a good quality sweet cream butter like Kerigold melted is just fine. Don't stress!
Lay the first sheet of phyllo dough down on a clean work surface. Use a basting brush to baste the sheet with the melted butter and lay down the second sheet directly on top. Add your favorite herbs or seasoning. Baste the top of the second sheet and arrange the brick of feta down at one end. Fold the sides up over the feta and roll up like a burrito.  Use more melted butter to baste any part of the phyllo dough that is dry and needs an "adhesive." 
Place on a parchment-lined baking sheet, seam side down. Baste the top with butter and add a pinch more of your favorite seasoning.
Bake for about 20 minutes or until the phyllo dough is golden.
Serve with an arugula salad on the side or as the centerpiece on a cheese board.
Watch below to make this recipe step-by-step with Anna Rossi!