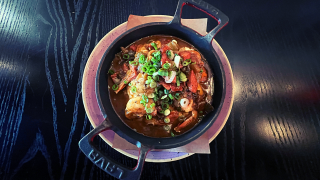 **Serves 4**
INGREDIENTS:
BBQ Base
1 tbsp blended oil
Reserved Shrimp Shells
2 Cloves of Garlic, Roughly Chopped
2 Lemons peeled
½ cup of Worcestershire Sauce
½ Cup of Hot Sauce
Jalapeno Grits
2 tsp of butter
1 tsp blended oil
1 jalapeno, small diced
1 cup of diced onion
4 cups of chicken stock
3 cups of water
2 cups of stone-ground grits
8 oz of cream cheese
Salt and pepper to taste
Shrimp
1 lb of shrimp, peeled and deveined (reserve shells)
2 tsp of Cajun Spice
1 tbsp of blended oil
¼ cup of beer
2 tbsp of unsalted butter, cube
PREPARATION:
For the BBQ base, place the oil in a small saucepan over medium heat.
Add the reserved shrimp shells and the garlic, stirring frequently until the shells are golden brown.
Add the lemons, Worcestershire sauce and hot sauce. Lower the heat to medium and let simmer until reduced by half, about 4 to 6 minutes.
Strain and set aside.
This can be made a day ahead.
For the Grits
Heat the butter and oil in a pan and add the jalapeno and onion.
Cook until softened.
Pour in the chicken stock and water. Stir and then bring to a boil.
Whisk in the grits and then reduce the heat to low, cover and cook for about 30 minutes, stirring occasionally. Add the cream cheese.
Stir and cook until the grits are tender, another 20 minutes.
At any time, add more stock to the grits if they look like they need more cooking liquid.
Remove the grits from the heat and season with salt and pepper.
For the shrimp
Toss the peeled shrimp with the Cajun spice, then add the blended oil to a medium-sized sauté pan over high heat.
Add the shrimp and sear for 1 minute per side.
Then add the beer, stir and let reduce for one minute. Reduce the heat to medium.
Add the BBQ Base and let reduce for three minutes. Turn the heat off and swirl in the cold butter.
Serve immediately over jalapeno grits.
Watch below to see chef Jason Santos and Anna prepare this delicious recipe!