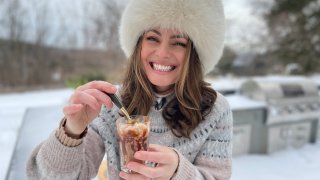 INGREDIENTS:
1 Cup freshly fallen snow or crushed ice
1.5 oz espresso
1 TBS coco powder (LA Burdick is especially nice
1 oz half and half or heavy cream, warm
1 TBS chocolate syrup, warmed
Orange Zest
More Recipes
PREPARATION:
In a small cup with a whisk or hand mixer, emulsify espresso, cocoa powder and warm cream.
Drizzly chocolate syrup down the inside walls of a serving cup, then pack with snow.  
Carefully pour the espresso mixture over the top of the snow and garnish with orange zest.
Enjoy with a small teaspoon.  For a boozy kick add a splash of Bailey's or Chocolate Liqueur.