Gwen Ifill, the trailblazing former moderator and managing editor of Washington Week and co-anchor and co-managing editor of PBS NewsHour, has died after a cancer battle NBC News has confirmed. Ifill was 61.
In October 1999, Ifill became the moderator of the PBS program "Washington Week in Review." She was also senior correspondent for the PBS NewsHour. Ifill has appeared on various news shows, including "Meet the Press."
A former newspaper reporter, Ifill switched to television and worked for NBC News and PBS. She moderated two vice presidential debates.
She took a leave from her nightly show for health reasons earlier this year, never making public her illness. A week ago, she went out on leave again, taking her away from election night coverage.
President Obama remarked on Ifill's passing at a press conference Monday. "Gwen was a friend of ours and extraordinary journalist. She always asked tough questions, holding people in power accountable. I always appreciated her reporting, even when I was on the receiving end of one of her tough interviews," he said.
"She not only informed today's citizens, but she also inspired today's journalists Gwen did her country a great service and Michelle and I join her family and everyone who loved her in remembering her fondly today," he continued.
Sara Just, PBS "NewsHour" executive producer, called Ifill "a standard bearer for courage, fairness and integrity in an industry going through seismic change."
The @SimmonsCollege community mourns the loss of proud alumna @gwenifill '77, '93HD. She was a powerful leader & outstanding journalist. pic.twitter.com/6L19AgZB94

— Simmons College (@SimmonsCollege) November 14, 2016
I am saddened to learn about the passing of Gwen Ifill—an incredibly talented and respected journalist.

— Paul Ryan (@SpeakerRyan) November 14, 2016
Heartbroken to learn Gwen Ifill has passed away. She was my hero, a woman who deserved all the praise she received. Honest and true

— Tamron Hall (@tamronhall) November 14, 2016
Heart broken to learn of Gwen Ifill's passing. Thank you, Gwen, for being a wonderful mentor.

— Jonathan Capehart (@CapehartJ) November 14, 2016
Stricken to hear of death of @gwenifill. A remarkable, strong woman and great journalist.

— Tina Brown (@TinaBrownLM) November 14, 2016
My heart is broken. Gwen Ifill was one of the greats.

— Jeffrey Goldberg (@JeffreyGoldberg) November 14, 2016
"Change comes from listening, learning, caring and conversation." - Gwen Ifill. RIP to great a human being. pic.twitter.com/xpSHswagKp

— Adam Parkhomenko (@AdamParkhomenko) November 14, 2016
Just heartbroken about losing Gwen Ifill. She owned every beat she was on, whether at the @nytimes@NBCNews or @NewsHour or anywhere else

— Chuck Todd (@chucktodd) November 14, 2016
Personally, I'm sorry I can't thank Gwen one more time for always being there for advice and encouragement. She was one of a kind

— Chuck Todd (@chucktodd) November 14, 2016
She was a great journalist, great moderator, a pillar in news. Gwen Ifill is deservedly the news this hour. #newshour

— Uzo Aduba (@UzoAduba) November 14, 2016
Ifill moderated the 2004 vice presidential debate between Dick Cheney and John Edwards and the 2008 vice-presidential debate between Joe Biden and Sarah Palin.
Ifill was in hospice care in Washington at the time of her death on Monday.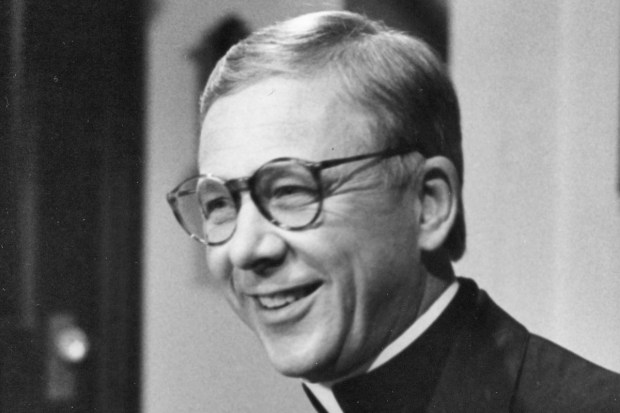 In Memoriam: William Christopher
The Associated Press contributed to this report.