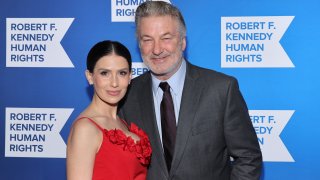 Another boss baby has joined the Baldwin family.
After Alec Baldwin and ex-wife Kim Basinger's daughter Ireland Baldwin welcomed her first child—a baby girl named Holland—with musician RAC, the 30 Rock actor and his wife Hilaria Baldwin expressed their excitement on becoming first-time grandparents.
On May 18, Hilaria Baldwin shared a photo with their kids—Carmen, 9, Rafael, 7, Leonardo, 6, Romeo, 5, Eduardo, 2, Marilu, 2 and Ilaria, 7 months—who also earned new titles this month.
"All of these aunties and uncles and us grandparents are so excited that Holland is here!!!" she wrote. "Congratulations to the mama and papa, Ireland and Andre. We love you so very much!"
Alec Baldwin commented, "Miracle."
Ireland Baldwin shared the news of her newborn's arrival May 18 by posting a snapshot of the couple in a hospital bed holding Holland, who is bundled up with a white cap. Hilaria Baldwin commented with three red heart emojis while cousin Alaia Baldwin wrote, "But you look so pretty."
Alec Baldwin's brother Billy Baldwin rounded out the congratulations with, "Welcome to the world Baby Girl Holland. We love you."
Ireland Baldwin's Best Instagram Pics
Back in January, the It's Complicated actor shared his excitement about his granddaughter's pending arrival, celebrating with Hilaria Baldwin and their kids on Instagram.
In the video, the children shouted in unison, "Congratulations Ireland and Andre!"
Carmen even took it upon herself to explain to her younger siblings what comes along with their new titles. "So you guys know what uncle means," she explained. "It means either your sister or your brother is pregnant or they have a kid."
Alec Baldwin then quipped to his daughter, "And what am I?" to which Carmen replied, "You're gonna be a grandpa. Ireland's pregnant."
Hilaria Baldwin captioned the sweet Jan. 2 clip, "From all these excited tiny uncles and aunties and grandpa Alec and grandma me... We are so happy for you, Ireland and Andre…can't wait to meet the little babe."
And throughout her pregnancy, Ireland, 27, has kept followers up to date on her growing bump. She's also gotten candid about how the journey has been for her—both physically and emotionally.
"Pregnancy is hard. It takes so much out of you," she wrote on Instagram Feb. 12 alongside a picture of herself in a bikini showcasing her baby bump. I wasn't ready for that. I've always wanted a baby with the right person. I grew up with a very jaded perception of what love really looked like and I always wanted to have a child of my own with someone who would treat us right and love us unconditionally."
The model added, "I underestimated just how hard pregnancy would be on my mind and my body. Being someone who deals with extreme health anxiety on a daily basis, pregnancy turned things into a high gear. I've struggled to adapt to these changes. Bodily sensations. Pains and aches. Organs going to s--t randomly."
Copyright E! Online