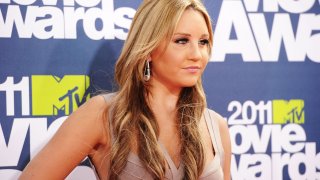 Amanda Bynes is in the care of medical professionals.
The "She's the Man" actress—whose conservatorship was terminated exactly one year ago—has been placed on a 72-hour psychiatric hold, a source close to the situation confirmed to NBC News on March 20.
The insider added, "She hasn't been in contact with her family for quite some time."
E! News has reach out to Bynes' lawyer and has not received a comment.
Bynes was initially scheduled to appear at 90s Con in Connecticut over the weekend with her former "All That" castmates. However, the California-based star did not make the trip to the East Coast for the event.
In 2013, Bynes was placed under a temporary conservatorship after multiple run-ins with the law that resulted in an involuntary psychiatric hold. The following year, she found herself back under the care of a conservatorship—with her mom Lynn Bynes overseeing her financial, medical and personal matters—following a string of alarming social media posts about her father, Rick Bynes.
While Bynes made improvements in her life in the years that followed—including undergoing drug and mental health treatment and returning to school at the Fashion Institute of Design and Merchandising (FIDM)—her conservatorship was extended in 2018. At the time, Lynn's lawyer, Tamar Arminak, told E! News that the arrangement "can end at any time prior to 2020, but both Amanda and her parents are on such good terms and happy with Amanda's life and future, the Conservatorship is the last thing on their minds."
And after spending years mending her relationship with parents, Bynes filed paperwork to end her conservatorship in February 2022, citing in legal documents that she "has the capacity to give informed consent to any form of medical treatment" and "protection from the court is no longer necessary."
Bynes' petition—which was filed with support from Lynn—also stated that she had been living in an apartment community "for women poised to transition into an autonomous lifestyle" and her random toxicology screenings showed that she had "consistently tested negative for illicit substances."
Her conservatorship was ultimately terminated in March 2022, with an attorney for Lynn telling E! News that the family is "so incredibly proud of the progress Amanda has made over the last few years and is so excited about the next chapter in Amanda's life."
Bynes added in a statement of her own at the time, "Words can't even describe how I feel. Wonderful news."
In recent years, Bynes has been open about how her struggles with drug abuse affected her mental health. Explaining how she abused drugs like ecstasy and Adderall before getting sober, the former child star said in a 2018 Paper interview, "Truly, for me, [my behavior] was drug-induced, and whenever I got off of [drugs], I was always back to normal."
She continued, "I actually am a nice person. I would never feel, say or do any of the things that I did and said to the people I hurt on Twitter."
Bynes also told the outlet she felt "really ashamed and embarrassed" of her past behavior. "I have no fear of the future," she added. "I've been through the worst and came out the other end and survived it so I just feel like it's only up from here."
(E! and NBC News are both part of the NBCUniversal family.)
Copyright E! Online