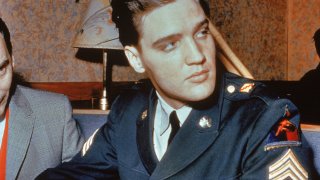 When Elvis Presley infamously met with U.S. President Richard Nixon at the White House in 1970, perhaps they had more serious things to talk about than people thought?
Sony Pictures Animation released new cover art for its upcoming Netflix adult animation series, "Agent Elvis."
The poster was shared on Twitter, wishing the King of Rock and Roll a happy birthday in the caption, which happens to be the date of the poster's release, Jan. 8.
According the show's Netflix site, "Agent Elvis" is about a scenario in which "Elvis trades in his jumpsuit for a jetpack when he joins a secret government spy program to help battle the dark forces that threaten the country."
Few details have been confirmed for the project, which was previously titled "Agent King," but fans on Twitter were not shy to express what they hoped to see in the rock-and-roll spy thriller.
"Hope they cast Austin Butler as Elvis, just like the live action movie, otherwise I'm going to be really disappointed," Twitter user Esther Barbero commented.
Butler played Presley in last year's motion picture "Elvis," which received three Golden Globe nominations for this year's award show, including Best Motion Picture, Drama.
No release date has been announced for "Agent Elvis."
The 80th Golden Globes airs on Jan. 10 at 8 p.m. EST on NBC.