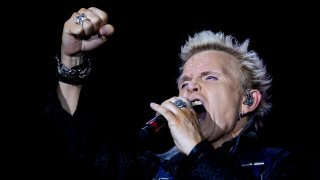 It's a nice day for a Hollywood Walk of Fame star.
Punk pioneer Billy Idol will be joined by rocker Henry Rollins and artist Shepard Fairey Friday when his star on the Hollywood Walk of Fame in unveiled in a ceremony that was scheduled for Thursday, but delayed due to rain. After a soaking winter storm moved through Southern California Thursday, clear skies are in the forecast for the 11:30 a.m. ceremony in front of the Amoeba Music store on Hollywood Boulevard.
A photo of Idol posing during the star's creation was posted to his Instagram page.
Click here to watch live.
One of the first stars of the music video era, the "White Wedding" and "Rebel Yell" singer sold more than 40 million albums in a career that began in the mid-1970s as a guitarist in the punk rock band Chelsea. Idol, born William Michael Albert Broad in London, left the group and joined former bandmate Tony James to form Generation X with Idol on lead vocals.
The distinctive stage name is thanks in part to a chemistry teacher's description of Idol on his school report card as "idle." Over the ensuing years, the prolific rock artist was anything but an idle do-nothing.
Generation X broke up in the early 1980s, and Idol left for New York to pursue a solo career. His arrival in the U.S. coincided with the rise of MTV, and the two were an immediate fit. The video for Idol's first solo single, "Dancing With Myself," was released in 1981 and received heavy rotation in the MTV lineup during the music video channel's first year.
His first solo album, titled "Billy Idol," was released in 1982 and reached gold status. Follow-up album "Rebel Yell," released the next year, reached double-platinum status, as did his next two studio albums -- "Whiplash Smile," released in 1986, and "Charmed Life," released in 1990.
Idol has had nine top 40 singles in the United States, including the 1987 live version of "Mony Mony," which reached No. 1, and "Cradle of Love," which rose to second in 1990. His other top 40 singles were "Hot in the City," "White Wedding," "Eyes Without A Face," "Flesh For Fantasy," "To Be A Lover," "Don't Need a Gun" and "Sweet Sixteen."
Idol received his frist of three Grammy nominations in 1985 for best male rock vocal performance for "Rebel Yell." He was also nominated inthe category in 1987 for "To Be A Lover" and in 1991 for "Cradle Of Love."