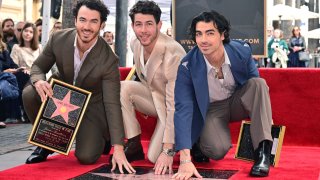 The Jonas Brothers have one more thing to feel so cool about.
The multi-platinum pop stars received the 2,745th star Monday on the Hollywood Walk of Fame. Nick, Joe and Kevin, who formed the Jonas Brothers in 2005, were at the 11:30 a.m. unveiling in front of cheering fans.
Monte and Avery Lippman, founders of Republic Records, who the Jonas Brothers record for, and singer, rapper, and songwriter Jon Bellion were set to join Nick, Joe and Kevin Jonas at the event. The brothers' wives -- Sophie Turner, Danielle Jonas and Priyanka Chopra -- also were scheduled to attend the ceremony.
"This is a testament to the love and support of our fans, our family and our friends who have been with us every step of the way," Kevin Jonas said.
Where Is the Jonas Brothers Hollywood Walk of Fame Star?
The Jonas Brothers' star is at 7060 Hollywood Blvd. The location is between La Brea and North Sycamore avenues in the vicinity of stars honoring Elvis Presley, The Beatles, Paul Newman and more.
About the Jonas Brothers
The band released its first of five studio albums, "It's About Time," in 2006. It sold 123,000 copies and reached 91st on the Billboard charts. Its second, "Jonas Brothers,'' released Aug. 7, 2007, sold more than 2 million copies and was certified as platinum by the music industry trade group, the Recording Industry Association of America.
Two of its other studio albums, "A Little Bit Longer," released in 2008, and "Happiness Begins," released in 2019, were also certified as platinum and reached the top of the charts. The band's other studio album, "Lines, Vines and Trying Times," also reached the top of the charts, sold 757,000, receiving gold record status, falling short of the 1 million mark needed for platinum certification.
The band received a best new artist Grammy nomination in 2008, honoring work released Oct. 1, 2007 though Sept. 30, 2008, losing to the English singer-songwriter Adele. It also received a best pop duo/group performance nomination in 2019 for "Sucker," losing to Lil Nas X's recording of "Old Town Road," which featured Billy Ray Cyrus.
The brothers also starred in the 2008 Disney Channel movie "Camp Rock," and its 2010 sequel, "Camp Rock 2: The Final Jam" and the 2009-10 Disney Channel comedy "Jonas," retitled "Jonas LA" for its second season.