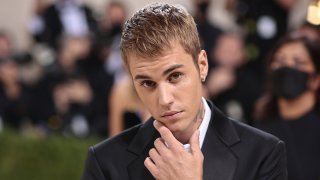 Never say never.
Justin Bieber is joining a growing list of artists cashing out on their music catalogs.
Bieber has struck a deal with U.K.- based Hipgnosis Songs Capital to sell the publishing rights to his 290-song catalog, which includes hits like "Baby" and "Sorry."
The agreement will be for songs released before the end of 2021, up to his latest album "Justice."
"The impact of Justin Bieber on global culture over the last 14 years has truly been remarkable," Merck Mercuriadis, founder and CEO of Hipgnosis Song Management said in a statement. "At only 28 years of age, he is one of a handful of defining artists of the streaming era that has revitalized the entire music industry, taking a loyal and worldwide audience with him on a journey from teen phenomenon to culturally important artist."
The move means Hipgnosis will receive royalty payments every time a Bieber song it owns is streamed or used on radio, TV or in films.
The two-time Grammy winner is one of biggest artists of the 21st Century, with his music garnering more than 70 million monthly listeners on Spotify alone and billions more in streams.
A spokesperson for Hipgnosis told NBC News the company was not able to disclose the cost of the deal, but the The Wall Street Journal previously reported it was valued at around $200 million. Bieber's manager, Scooter Braun, hailed the agreement as a "historic deal."
"Justin is truly a once in a generation artist and that is reflected and acknowledged by the magnitude of this deal," Braun said. "For 15 years I have been grateful to witness this journey and today I am happy for all those involved. Justin's greatness is just beginning." 
Over the last few years, investment firms have zeroed in on music rights as a commodity, seeing value in licensing artists' songs.
Bob Dylan, Bruce Springsteen, Paul Simon, Sting, Stevie Nicks and Neil Young have all sold their recordings, songwriting catalogs or both, in recent years.
Prices are rarely disclosed, but music industry experts put Springsteen's sale to Sony Music Entertainment in December 2021 at $550 million and Dylan's deal the same month with Universal Music Publishing Group at between $300 million and $500 million. Justin Timberlake also sold his music catalog to Hipgnosis in 2022 for a reported $100 million.