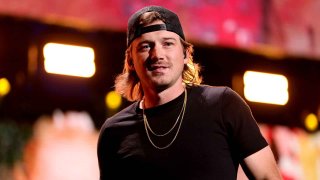 Morgan Wallen's collaboration with Ryl Sweet Tea might have taken months to make, but all it took was an Instagram post for it to sell out within hours.
The country music artist shared news of his sweet tea collaboration on Thursday to his more than 5 million followers on Instagram and they seemed to respond with the product selling out quickly.
He also shared a video promoting the product on Twitter.
The flavor is described as the "essence of Tennessee," a nod to Wallen's roots growing up in eastern Tennessee.
"Ryl Tea and I worked hard to capture the sweet tea taste I remember from my childhood," Wallen wrote in his caption. "This tea takes me right back to my Mamaw's front porch on a hot summer's day."
While the product sold out on Ryl's website, it will soon be available through many more providers. Gopuff app will start carrying it in early June, before it hits Kroger, Wegmans, Shoprite and Sprouts Farmers Market in late July.
Wallen, 30, rose to fame on NBC's The Voice back in 2014 and has since emerged as one of the biggest stars in modern country music. His third album "One Thing At A Time" is currently enjoying its 11th straight week atop the Billboard 200 list, headlined by the song "Last Night" in its seventh week leading the Billboard Hit 100 list.
Despite his massive commerical success, Wallen's career hasn't been without controvery. In 2021, Wallen's contract with production label, Big Loud Records, was suspended indefinitely following the release of a video showing him using a racial slur. More recently, he cancelled his April show in Oxford, Mississippi, minutes before he was supposed to take the stage, claiming he lost his voice.
His next show for his global tour is tomorrow in Houston.