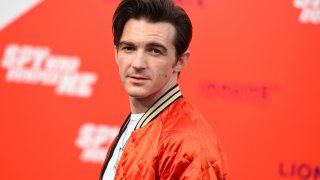 Drake Bell has been reported missing.
Authorities in Florida announced they're looking for the Nickelodeon alum, who hasn't been seen since April 12.
"He should be traveling in a 2022 grey BMW and his last known location is potentially the area of Mainland High School," the Daytona Beach Police Department shared in an April 13 Facebook post alongside a picture of the 36-year-old. "He is considered missing and endangered."
"If you know where he is or have any information," the message noted, "please contact Detective Jayson Wallace at 386-671-5207 or wallacejayson@dbpd.us. #missing #DBPD"
In response to speculation about their social media statement, authorities added, "For those asking, this is a legitimate post from the Daytona Beach Police Department."
E! News has reached out to Bell's rep for comment.
This news comes nearly two years after the actor faced trouble with the law.
In July 2021, the "Drake & Josh" alum was sentenced to two years of probation in Cleveland court after pleading guilty to attempted child endangerment. (Bell was arrested a month earlier in connection with the case after a woman accused him of grooming her when she was underage.)
Prior to the sentencing, Bell addressed his past behavior.
"Today I accept this plea because my conduct was wrong," he said in a statement at the time. "I'm sorry that the victim was harmed in any way—that was obviously not my intention."
"I have taken this matter very very seriously," he continued, "and again I just want to apologize to her and anyone else who may have been affected by my actions."
In January, People reported that Bell had entered outpatient treatment for substance abuse amid separation from his wife Janet Von Schmeling, who he wed in 2018 after five years of dating.
Though the duo were private, Bell did share a rare look into their lives when he announced they had welcomed a baby together.
"In response to various rumors that are incorrect, I have been married for almost 3 years, and we are blessed to be the parents of a wonderful son," Bell tweeted in 2021. "Thank you very much to all my fans around the world for your good wishes."
Copyright E! Online