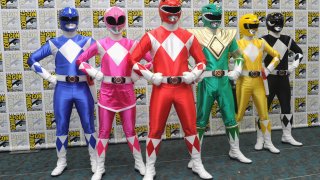 Once a Ranger, always a Ranger.
Believe it or not, it's been thirty years since the "Power Rangers" first mighty morphed their way onto our TV screens.
So to celebrate, Hasbro is reuniting most of the team for "Mighty Morphin Power Rangers: Once & Always" on Netflix. The stand-alone special is set to air April 19.
Original stars David Yost, Walter E. Jones, Steve Cardenas, Catherine Sutherland, Karan Ashley and Johnny Yong Bosch are all returning, alongside voices from Richard Horvitz as Alpha and Barbara Goodson as Rita Repulsa herself. Additionally, "Power Rangers Dino Fury" star Charlie Kersh joins the cast.
Netflix dropped a trailer for the reunion special on Jan. 17, which sees the Rangers reunite three decades after their initial formation to tackle a global threat.
Yost, the original Blue Power Ranger, honored the show's 30-year history following the announcement. "It was great to work with Walter Jones again. We went through the audition process together and launched the 'Power Rangers' franchise 30 years ago," he shared in a statement. "I am so grateful to the fans of 'Power Rangers' for their undying commitment to the original cast."
His castmate Jones, the original Black Power Ranger, echoed his sentiments. "It was such a surreal experience to be on the set of 'Power Rangers' again after 28 years! I was so at home. Can't wait for the fans to see what they have waited so long for," he added. "The ZackMan is back and ready to rock! Working with David Yost as a Ranger again was amazing! Our Ranger family runs deep!"
Unfortunately, news of the special comes two months after the passing of Jason David Frank, who played the original Green Power Ranger. His former co-star Amy Jo Johnson remembered Frank as "beautiful and truly unique" in a tribute to the late actor, noting: "My life just won't be the same without your frenetic, hilarious, caring, driven and creative ball of energy."
"Mighty Morphin Power Rangers" launched the "Power Rangers" universe when it initially premiered in 1993 on Fox. It ran for just three seasons under the original title, but the story continues to this day as "Power Rangers Cosmic Fury," which will also return to Netflix in 2023.
Morphin' time is officially back when "Mighty Morphin Power Rangers: Once & Always" airs April 19 on Netflix.
Copyright E! Online