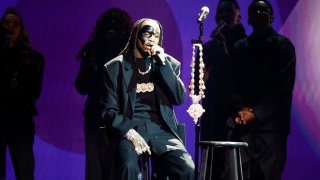 Quavo is paying tribute to Takeoff three months after his death.
The Migos rapper honored his late nephew and bandmate during the in memoriam segment of the 2023 Grammys on Feb. 5. Joined by the Maverick City Music gospel choir — they were nominated for four awards at the ceremony—Quavo delivered a moving rendition of his song "Without Me."
"Tears rollin' down my eyes / Can't tell you how many times I cried," the 31-year-old rapped in front of an empty microphone stand adorned with Takeoff's chain. "Days ain't the same without you / I don't know if I'm the same without you."
Quavo released the track in January as tribute to Takeoff, who was fatally shot outside of a Houston bowling and billiards club on Nov. 1.
During the Grammys in memoriam segment, Kacey Musgraves also took the stage to perform a cover of "Coal Miner's Daughter" as a tribute to late country singer Loretta Lynn. Meanwhile, Sheryl Crow, Mick Fleetwood and Bonnie Raitt sang "Songbird" to honor Fleetwood Mac's Christine McVie, who died on Nov. 30 at the age of 79. 
PHOTOS: Takeoff's Celebration of Life Memorial Event
Prior to his death, Takeoff — born Kirsnick Khari Ball — had attended a private party at the club with Quavo, according to police. Shortly after the event ended, an argument broke out that led to the shooting. 
Following Takeoff's celebration of life Nov. 12, Quavo shared a letter addressed to the 28-year-old. "It's so hard to tell you Ima miss you because you always with me and we did everything together," he wrote on Instagram. "Since we were kids you been by my side lookin up at me, them eyes waiting on me to make the next move...then you followed up right behind me."
Explaining how their bond had always felt more than just an uncle-nephew relationship, Quavo continued, "Now I finally get it....you are OUR angel watching me and watching us this whole time in living form making sure EVERYONE FELT UR LOVE AND HUGS while u here and u made our dreams come true."
He added, "I love you with all my heart. I'll never leave you."
Copyright E! Online