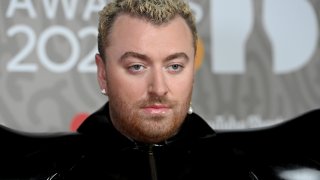 Musician Sam Smith turned heads with the eye-catching black latex outfit the "Unholy" singer wore to the Brit Awards Saturday night in London.
The distinctive jumpsuit, designed by Harri, had inflatable arms and legs that quickly became the most buzzed about look of the night, trumping Harry Styles' black velvet suit with its giant satin organza flower around his neck.
Smith's look, which included black platform heeled boots, had its fans, but also inspired some to take to social media to make jokes about UFOs and Billy Connolly's "incontinence pants" come to life. Others wondered if it was an homage to one of David Bowie's most memorable looks, the shiny, pinstripe jumpsuit with ballooning legs designed by Kansai Yamamoto that Bowie wore in 1973.
The designer of Smith's outfit, Harri, told WWD that the look was intended to celebrate the natural form and "the beauty of being one's self."
"Sam was having a lot of hate comments recently after 'Unholy' about (their) body image," Harri said. "I wanted to create an image which people have never seen Sam in."
Last week, Smith, who goes by they/them pronouns, praised stylist Ben Reardon on Instagram, writing that he's behind much of what they've worn over the past few years in videos and on red carpets.
"Ben, your talent and your vision is unprecedented in my life," Smith wrote. "You have taught me so much and re-introduced me to art and creativity in a way that I never thought was possible. Thank you for helping me be brave and have fun at the same time. I love you and I am honoured to work with you daily x."
Copyright AP - Associated Press