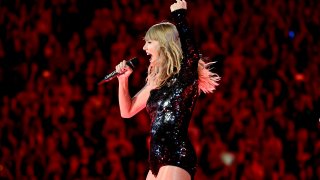 Tens of thousands of Taylor Swift fans are expected to descend on Gillette Stadium over the weekend for the Eras Tour. If you're one of the lucky ones to snag a ticket – or if you're still holding out hope of getting one – here's everything you'll need to know.
IF YOU'RE STILL LOOKING FOR TICKETS
The Eras tour is one of the largest and most sought-after concert tours in history — ticket sales in the first place caused a minor meltdown at Ticketmaster. As of Tuesday tickets were selling on StubHub for more than $3,000. If you're ready to drop that kind of cash please beware – scams are rampant. You should be very cautious about buying any tickets via social media – instead, look for tickets on the major ticketing resale sites. Don't let the excitement of scoring tickets cloud your judgment. For more on scams, click here or here.
IF YOU'RE LOOKING FOR ERAS TOUR MERCH
If you couldn't get tickets, you can still snag merch. The official merchandise trailer will be at Lot 3B Gillette Stadium on Thursday from 10 a.m. until 7 p.m. and is open to the public - though you'll want to try to get their early - lines will be capped to keep it to the 7 p.m. end time and sales are first come first serve.
GETTING TO AND FROM THE STADIUM
If you've never been to Foxboro before, it's 29 miles southwest of downtown Boston and 25 miles northeast of downtown Providence, Rhode Island.
The MBTA Commuter Rail runs special event trains from South Station in Boston and from Providence to Gillette Stadium on concert days – but be warned that tickets are already sold out, so that will only be an option for those who purchased ahead. Event trains have specific tickets - if you take regular weekday Commuter Rail service on Friday, your ticket won't be valid to return after the show after the last regularly scheduled train leaves. Event trains leave from the stadium 30 minutes after the end of the concert. For more specifics on MBTA service, click here.
If you're going to drive, leave early, and know that whatever direction you're coming from you'll probably wind up on Route 1. Past concerts at Gillette have caused big backups and police warn that certain navigation apps will try to take you on back roads, but they may be closed. Walpole police say certain backroads will be closed to avoid congestion in residential areas.
If you hired a limo or bus, know that they will not be allowed to drop off in Gillette lots - so prepare for a walk and make a plan for pickup.
Opting for a rideshare? There is a designated rideshare drop-off and pickup area in Lot 15. If you want to catch a taxi after the show there is a taxi stand available at Lot 6A. Taxis are on a first-come, first-serve basis.
If someone dropped you off, South Retail Parking Lot 15 is available for drop-off and pickup. Lot 3A will be available for pickup only - drivers are advised to get back to Lot 15 or 3A for pickup between 9:30 p.m. and 10 p.m.
You won't be allowed into the parking lot at Gillette without a ticket - no ticketless tailgaters at this event. Lots will open at 2:30 p.m., and the stadium doors open at 4:30 p.m. Stadium-side prepaid parking is sold out – if you purchased this, a parking space is guaranteed. General parking is available for all ticket holders, but it does not guarantee a specific spot.
WHAT TO BRING – AND WHAT TO LEAVE BEHIND
If you're planning an outfit change worthy of the show, make sure you pack it accordingly and know that no lights or battery packs will be allowed.
Gillette has a bag policy – non-clear bags can't be larger than 4.5" by 6.5" - That means your typical backpack should stay at home or in the car. Clear bags cannot be larger than 12" by 6" by 12" for admittance. Only one pre-approved clear bag will be allowed per person.
If you're bringing a banner or a sign, it can't be larger than 11" by 17".
There are no GoPro, video cameras, tripods or monopods allowed inside the stadium, and no professional cameras or cameras with detachable lenses. Selfie sticks, lasers, and umbrellas are also not allowed.
Outside food and drink are also prohibited.
For a full list of what you can and can't bring inside, click here.