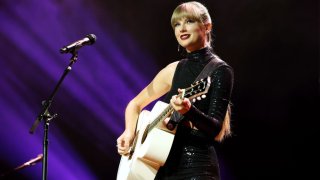 Taylor Swift has spoken.
On May 5, the pop star announced at the Nashville stop of her The Eras Tour that she'll be releasing a re-recorded version of her 2010 album Speak Now. The enchanting revelation came just as she played "Sparks Fly," the fifth single from the record, as one of her two surprise songs of the night.
"I think rather than me speaking about it," she told the crowd, as the cover art for the upcoming Speak Now (Swift's Version) flashed across screens at the Nissan Stadium, "I thought I would show you." (Click here to see the cover.)
The new album will be released on July 7. It will contain 22 tracks, including six previously unreleased songs from the vault.
"I first made Speak Now, completely self-written, between the ages of 18 and 20," a message shared to Swift's Instagram announcing the re-recording read. "The songs that came from this time in my life were marked by their brutal honesty, unfiltered diaristic confessions and wild wistfulness. I love this album because it tells a tale of growing up, flailing, flying and crashing … and living to speak about it."
Photos: Taylor Swift Through the Years
The post was accompanied by a note signed by the 33-year-old, reading: "I always looked at this album as my album, and the lump in my throat expands to a quivering voice as I say this. Thanks to you, dear reader, it finally will be."
Swift added, referencing lyrics from the record, "I consider this music to be, along with your faith with in me, the best thing that's ever been mine."
Speak Now is the third album from Swift's discography to be re-recorded. A re-recording of 2008's Fearless was released in April 2021, followed by an updated version of her 2012's Red seven months later.
The singer is in the process of re-recording her six earliest albums after a dispute with her previous record label Big Machine Label Group. As Swifties know all too well, Swift started the venture after Scott Borchetta, who ran the label, sold her masters to Justin Bieber's manager Scooter Braun.
"Thankfully, there's power in writing your music," Swift said of her decision in a 2019 interview with Billboard. "And the reason I'm rerecording my music next year is because I do want my music to live on. I do want it to be in movies, I do want it to be in commercials. But I only want that if I own it."
Copyright E! Online