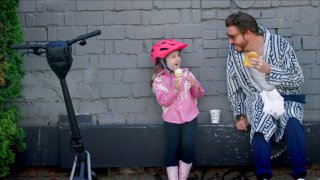 She was born for this.
As Macklemore gears up to shoot the music video for his new song, "No Bad Days," the musician is enlisting the help of someone very special to serve as director: His 7-year-old daughter, Sloane. And the Grammy winner explained why she was more than qualified to be behind the lens in the cutest way possible.
"I'm a little bit nervous asking this, if I'm being honest," he says to Sloane in a Feb. 21 TikTok. Referring to her help with visuals for his apparel line, he continued, "You knew exactly what you wanted. I was so impressed with your work ethic, with your eye. I love your visual aesthetic. I absolutely love your style."
"I've been trying to think of a music video for 'No Bad Days,'" he added. "I need a director and I was thinking, what if you directed the music video?"
Cue the happy tears and cute celebration.
When the "Thrift Shop" rapper asks his daughter if her hugs were in agreeance, she says sweetly, "That's a yes!"
And not one to waste time, Sloane was already seen drawing up ideas for the visual in a follow-up video, with the 7-year-old suggesting that her dad parachute out of a plane or stand in a hot-air balloon as he performed.
Macklemore's oldest daughter has long served as a source of inspiration as far as the musician—who also shares 4-year-old daughter Colette and 18-month-old son Hugo with his wife Tricia—is concerned.
"When you bring another life into this world it does something," he told E! News in 2017. "It changes you in this magical way that I have never experienced before."
Copyright E! Online