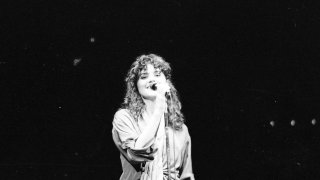 Once again, a buzzy TV show is to thank for introducing a new generation to a beloved music icon.
After Linda Ronstadt's 1970 song "Long Long Time" was used during the Jan. 29 episode of HBO's "The Last of Us," it saw a 4,900% increase in streams on Spotify.
According to the streaming service, the song saw the spike between 11 p.m. and midnight ET, right after the episode aired.
The song was used in a scene featuring Bill (Nick Offerman) and Frank (Murray Bartlett), two men who form a relationship in the midst of a global pandemic. After Bill allows Frank into his home, Frank notices his piano and rummages through the sheet music in his bench.
He finds "The Best of Linda Ronstadt," turns to a page, says, "Oh my god, it's my favorite," and starts playing.
The song, of course, is "Long Long Time."
He doesn't make it very far, however, as Bill stops the off-key performance saying, "Not this song, not this song."
PHOTOS: The OMG TV Moments From 2022 That We Can't Get Out of Our Heads
Frank gets up and insists that Bill performs the song instead, which he does, reluctantly. "Love will abide, take things in stride," he sings. "Sounds like a good advice, but there's no one at my side / And time washes clean, love's wounds unseen / That's what someone told me, but I don't know what it means."
Bill finishes the performance singing, "I think I'm going to love you for a long, long time."
The song is later played as Joel (Pedro Pascal) and Ellie (Bella Ramsey), years later, pull out of Bill and Frank's home after recovering a car left behind by the pair.
"Long Long Time" then plays over the end credits of the episode.
The song, which spent 12 weeks on the Billboard Hot 100 in 1970 and earned Ronstadt a Grammy nomination, might now be preparing for a similar trajectory to Kate Bush's "Running up That Hill (A Deal with God)."
Used during a pivotal moment during the fourth season of "Stranger Things," Bush's song catapulted all the way inside the top five on the Billboard Hot 100 in June 2022 — over 36 years since its release in 1985.
"The Last of Us" co-creator Craig Mazin said he struggled to find the right song to match the episode's emotional gut punch — so he enlisted a friend for some help.
"I could not find the right song for the life of me," Mazin told Variety. "I was trying and trying, and then I texted my friend Seth Rudetsky, who is the host of Sirius XM on Broadway and a savant. I told him, 'Here's all the things I need,' and two seconds later: 'Linda Ronstadt, "Long Long Time.' I was like, 'There it is. That's it!'"
"The Last of Us" airs Sundays at 9 p.m. on HBO and episodes are available to stream on HBO Max.
Copyright E! Online