People who said they lost access to their social media accounts and don't know why have reached out to the NBC Responds team for help.
They said they tried to troubleshoot and follow help center instructions, but could not connect to anyone at Facebook or Instagram who could help.
"THERE'S NOT A CONTACT FOR ME TO RESOLVE THIS ISSUE"
At 18 years old, Cori Roberson has leveraged her love of fashion into a livelihood. The high school senior said she spent four years growing her audience to more than 100,000 followers on her Cuurly Coco Instagram page.
"It's a passion of mine," Roberson told NBC Responds. "When I get home from school, that's all I want to do is make content for people."
Roberson said her outfit-of-the-day and fashion posts helped her land brand deals and modeling work.
"I was reaching out myself to see if there is any work, any campaigns, anything that I could lend a hand to," Roberson explained.
Local
In-depth news coverage of the Greater Boston Area.
One afternoon on December 7, she said that following was gone.
"I had this black screen pop up," said Roberson. "'We need to verify your information,' and I was, like, 'OK, no problem.'"
Roberson said she followed Instagram instructions to prove her identity and waited.
"I never got a response. I just never received anything," Roberson said.
Roberson said she tried other ways to get in touch with Instagram to find out what happened.
"I look at the help center and there's no information. There's not anything that's helpful. There's not a phone number. There's not an email. There's not a contact for me to resolve this issue."
Roberson said she had a business account. She'd implemented two-factor authentication and she told us she isn't aware of any terms or conditions she would have violated to cause her main source of income to go offline.
"I've signed a lot of those contracts believing my account and trusting in the stability of it, but it's just left me in such a hard situation that I have to disappoint a lot of people," Roberson said.
"I NEVER REALIZED THAT A MULTI-BILLION-DOLLAR COMPANY CANNOT HAVE CUSTOMER SERVICE"
Jeff Weaver of Carrollton, Texas, is also looking for answers about his Facebook account and the business pages linked to it.
"All of that's gone. It just cuts your legs off," said Weaver.
Weaver showed us an email he received from Facebook early one Sunday morning in November, reporting a login from Dallas. Weaver showed us a second email arriving three minutes later, saying it looked like someone may have accessed his account. One minute after that, Weaver said he received a third email saying his account has been suspended for not following community standards.
Weaver said he followed instructions in the emails to try to get back into his account. He said the personal account he used to set up three business pages remains disabled with no way to appeal.
"I never realized that a multi-billion-dollar company cannot have customer service. There is no email to send them an email," Weaver said.
"YOU'RE NOT THEIR CUSTOMER, YOU ARE THE PRODUCT"
Weaver and Roberson aren't the only social media users who said they can't get in touch with Instagram, Facebook or parent company Meta to resolve questions about their accounts.
Our NBC Responds and Telemundo Responde teams around the country counted 595 complaints about hacked, disabled or deactivated Facebook or Instagram accounts going back to when the teams started collecting the data in 2017. Most of the complaints began coming in after the fall of 2020.
"You need to realize how these are set up and that there is no customer service for you to call because you're not their customer, you are the product," said Eva Velasquez, president and CEO of the Identity Theft Resource Center.
Velasquez said the Identity Theft Resource Center is also getting more questions from people about how to get their social media accounts back, with some reporting hackers took control.
The ITRC said the number of social media account takeover reports it has received for social media platforms, including Facebook and Instagram, has increased from around 41 in 2020 to 1,829 in 2022.
Velasquez explains the only way to resolve a concern is through the platform itself.
"Gee, wouldn't it be nice if the platforms had enough resources to actually be able to respond and answer these questions in a timely manner?" Velasquez said. "Then, you wouldn't have people deeply concerned that potentially fraud is being committed."
HOW TO BETTER SECURE ACCOUNTS
Velasquez recommends users who use social media for their businesses have a backup plan to reach customers.
Any social media account holder can take steps to better secure accounts, including using strong passwords with at least 12 characters containing symbols, upper and lower-case letters.
Don't use the same password for other accounts.
Set login alerts and use two-factor authentication to require a security code if someone logs in from an unrecognized browser or device.
Apply those tips to help secure the email account linked to your social media.
ACCESS RESTORED FOR ROBERSON
After Weaver and Roberson contacted NBC Responds, we reached out to Meta multiple times to ask about their accounts. We have not heard back.
Thursday morning, after 11 weeks of trying to get in touch with Instagram, Roberson said was able to access her Cuurly Coco Instagram page. Roberson shared an email she received from Meta Thursday morning, saying her account was disabled by mistake and has been reactivated.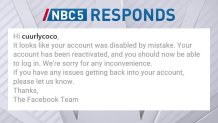 Weaver said he still didn't have access to his account on Thursday.
"All of my personal relationships are there. To them, I'm dead. I just disappeared," Weaver said.
In a story our colleagues at the NBC station in Washington D.C. published last fall, Meta said, in part, it's making investments to further help "resolve support-related concerns" across platforms and improve customer support.
RESOURCES FOR HELP