Stoughton Fire Chief Michael Carroll took us around the town's century-old headquarters and ticked off the reasons the structure has seen better days.
Ceiling tiles showed stains from persistent leaks. Exposed and outdated electrical wiring was in plain sight. And a parked ambulance pushed tables and supplies right up against firefighters' lockers, an illustration that the building's size does not fit 21st-century fire apparatus and safety equipment.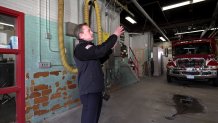 "Some of the plumbing is a little interesting because one time, believe it or not, they put the garbage disposal on and it came out of the urinal," Carroll said. "I don't know how that happens."
We met with Carroll after his counterpart in Melrose, Fire Chief Ed Collina, gave us an eye-opening tour of the conditions inside his city's stations.
Records uncovered in our "Small Town Secrets" investigation found everything from no heat in the winter to raw sewage and rodents to plastic pools placed to catch stubborn ceiling leaks.
In the basement, a condemned floor was held up by temporary pillars and no longer able to handle the weight of fire apparatus.
Photos Show Deteriorated Conditions at Melrose Fire Facilities
"If this fails, then we are out of business," Collina said as he pointed to a reinforcing beam.
While Melrose might be the poster child for the issue, firefighters in other communities contacted us after the report to let us know substandard conditions are not unique inside public safety buildings.
The day after our story aired, the Somerville Local 76 posted a letter on social media, calling for an overhaul of the city's fire stations.
Union president Mike Jefferson told NBC10 Boston two members were recently bitten by rats while taking the trash out. Another firefighter stepped on a rat while putting on his boots.
Jefferson said instead of putting band-aids on problems as they surface, he would like to see a long-term plan.
"The city's reactionary approach to these issues continues to cause the deterioration of our firehouses and living conditions," Jefferson wrote in the letter. "After more than a half-century of neglect, it is incumbent on our local elected government to acknowledge these deplorable conditions and act."
In a statement, Somerville Mayor Katjana Ballantyne told NBC10 Boston that she is committed to investing in public safety buildings and will be sharing more when the city's capital improvement plan is released.
"Our firefighters work hard to protect all of us, and our Administration is committed to ensuring that firefighters, and all Somerville municipal workers have the safe, well-maintained workplaces they deserve," Ballantyne said.
Richard MacKinnon is president of the Professional Firefighters of Massachusetts and said his organization hears from members all over the state about fire stations that are falling apart.
"If you walk into basically any firehouse, you will find violations that don't meet OSHA standards," MacKinnon said. "Being a firefighter is dangerous, but you shouldn't have to face danger where you live as well."
When asked why so many fire stations are in bad shape, MacKinnon said the major obstacle is funding.
That is why Sen. Walter Timilty is proposing legislation that would establish a public safety building authority to review and approve projects in municipalities.
Modeled after Massachusetts' program for school buildings, the state lawmaker said dedicated sales tax revenue would provide state funding and help local taxpayers shoulder the burden.
"Resources are strapped in communities," Timilty said. "In one word, public safety buildings around the Commonwealth are dilapidated. And in two other words, they are health hazards."
Timilty said bringing modern amenities into stations designed for horse-and-carriage fire apparatus is even more urgent with occupational cancer rates among firefighters.
"It's beyond they're old and outdated. It's literally costing lives," Timilty said.
In Stoughton, Chief Carroll is grateful residents approved a tax override last year to fund the upgrading and construction of new stations.
"There's a light at the end of the tunnel," he said.
In Melrose, a similar push is underway. Mayor Paul Brodeur appointed a public safety committee and the city launched a web site on the same night our investigation aired.
But after public input and a decision from elected leaders, those improvements would still be years down the road.
Referencing the NBC10 Boston "Small Town Secrets" story, Melrose resident Katy Kennedy had a letter published in the local newspaper last week.
She called the situation a "moral issue" and implored elected officials to come up with more immediate alternatives until a long-term vision is decided.
"To put off solutions any longer is to dishonor the men and women who put their lives on the line for the rest of us," Kennedy wrote.
 Ryan Kath can be reached at ryan.kath@nbcuni.com. You can follow him on Twitter or connect on Facebook.