The owner of a pool business is facing a long list of criminal charges after an NBC10 investigation uncovered an alleged path of destruction across Massachusetts and homeowners who said they lost thousands of dollars.
The pattern of unfinished projects sparked a Plymouth County grand jury investigation, which has resulted in a 17-count indictment against Steve Docchio.
According to court documents, the charges include larceny, home improvement contractor violations, tax evasion, money laundering, and pandemic unemployment fraud.
But there's a problem: Before he appears in court to face the allegations, authorities need to figure out where he is located first.
"This is an individual who was going around our community and was stealing from people who work hard for their money," said Plymouth County District Attorney Timothy Cruz, who sat down with the NBC10 Investigators after the indictment was unsealed.
Instead of pools and other expensive home improvement projects, the NBC10 investigation detailed how homeowners were left with giant holes in their backyards and broken promises.
Cruz said it can be hard to hold bad contractors accountable—a frequent complaint lodged by customers during our ongoing investigative series—because the law requires prosecutors to prove they never intended to finish a job after accepting payments.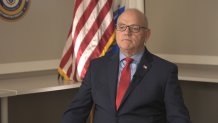 "How do you get into somebody's head?" Cruz asked. "How do you prove that was their actual intent at the time of receiving the money? That's a challenge."
However, Cruz said the NBC10 investigation illustrated a pattern.
During the pandemic pool boom, the indictment accuses Docchio of landing contracts by giving customers unrealistic deadlines. Several customers told us the contractor promised they'd be "swimming by the 4th of July" when other companies had waiting lists of more than a year.
Once the contract had been signed, customers said they later discovered pool equipment and project supplies were never ordered months after they'd written the checks.
"Once homeowners provided payments that exceeded the value of the defendant completing the work, he abandoned the job site, ignored text messages and calls, left equipment and debris scattered around the property, and kept all the stolen money," court documents allege.
The indictment estimates the amount of stolen funds at $500,000.
In addition to charges related to the abandoned home projects, the indictment accuses Docchio of tax evasion for not reporting any earned income in 2019, 2020 and 2021 while cashing hundreds of thousands of dollars in checks from customers.
During that period, court documents allege Docchio also received $85,000 of government assistance, including pandemic unemployment benefits.
Homeowners listed in court documents previously shared their nightmare projects with the NBC10 Investigators. Even though the cases occurred in several different jurisdictions, they will be grouped and prosecuted in Plymouth County.
"That's a lot of money and nobody has a right to do that," Cruz said. "If we can show the larcenous intent, I believe we have an obligation to go forward to prosecute those cases."
The grand jury reviewed the NBC10 interview with Docchio during its investigation, when the contractor told us customers shared the blame for all the failed projects. During that exchange, Docchio also downplayed the financial and emotional toll of having a home construction project drag on with no end in sight.
"I didn't have an oxygen tank for somebody's livelihood and didn't delivery the oxygen tank," Docchio told us in January 2022. "You're talking about backyard living."
There's now an added twist to the ongoing story. Since unsealing the indictment, authorities have been unable to locate the contractor, despite several visits to the address he was last seen in Plymouth.
During a criminal hearing last December in Clinton District Court, Docchio's public defender asked for a future date to be pushed back because his client was heading out of the country.
"I'll be back the 31 of January," Docchio told the judge, according to audio obtained by NBC10.
The date in that case was scheduled for the first week of February. But Docchio did not appear. He also missed court dates for criminal cases in Orleans District Court and Brockton District Court.
There are now multiple warrants out for his arrest. While it's unknown if Docchio is still out of the country, the contractor does have ties to Brazil, according to social media posts and the criminal indictment.
"The defendant regularly boasted about owning Brazilian property," court documents allege. "The defendant sometimes halted work in the winter, informing victims he spent the cold months in Brazil. The defendant's financial records reflect miscellaneous charges in Brazil."
Cruz is asking anyone aware of Docchio's whereabouts to contact the Plymouth County District Attorney's Office.
"What I would love to see happen is that he gets held accountable for these larcenous acts," Cruz said. "I would tell him to come home voluntarily because it will be an easier trip than when we come pick you up."
Ryan Kath can be reached at ryan.kath@nbcuni.com. You can follow him on Twitter or connect on Facebook.