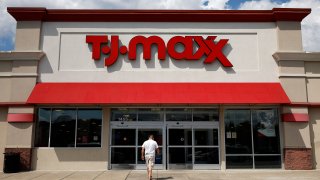 Retail giant TJX, which owns stores including TJ Maxx and Marshalls, trimmed its workforce over the past year, according to a report filed with federal regulators this week.
The Framingham, Massachusetts-based company, reported in its annual report to the Securities and Exchange Commission having 329,000 employees this year, down 3% from last year, as The Boston Globe first reported.
While the workforce shrunk, the company added stores and reported an increase in revenue, to $50 billion, for the fiscal year that ended in January.
"With our flexible, off-price business model, the number of Associates we employ may fluctuate from time to time. While a number of factors influence our hiring, as we reopened our stores and distribution centers after the height of the COVID-19 pandemic, we hired many more Associates than usual to help support our enhanced health and wellness practices. In 2022, we did not refill positions of many part-time and seasonal Associates as they left the company, and reverted our headcount closer to pre-pandemic levels." the company told NBC10 Boston in a statement.