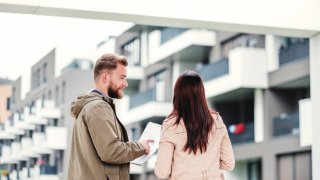 With rents at historic highs, deciding what you should spend on housing is an increasingly difficult task.
Housing experts have some strategies to figure it out.
There's often a chasm between theory and practice, what we should do and what we actually do. Yet, when it comes to the long-held advice for renters to not spend more than 30% of their income on housing, the target is increasingly impossible to even try to reach, experts say.
"The old 30% guideline is just unrealistic these days," said Marc Hummel, a licensed real estate salesperson at Douglas Elliman in New York.
More often, Hummel said, tenants spend 40% of their income, or more, on housing. "With vacancy rates at record lows and rents near some of the highest on record, it's become increasingly more difficult to spend less," he said.
More from Personal Finance
What is a 'rolling recession' and how does it impact you?
Almost half of Americans think we're already in a recession
If you want higher pay, your chances may be better now
Indeed, nearly 15 million renter households in the U.S. are considered cost-burdened, meaning they're spending more than 30% of their income on rent and utilities. In some cities, the situation is especially dire. For example, in New York, a household with the area's median income would need to pay nearly 69% of their earnings to rent the average-priced apartment, according to Moody's Analytics.
There are major consequences to taking on a rent that eats up too much of your income, Hummel said. "Spending more on rent means less money for savings, retirement, family goals and less to pay for other debt obligations," he said.
Housing is the single biggest financial area where people get trapped, according to personal finance blogger and author Ramit Sethi. "Which is why it's so important to follow some general guidelines when you're deciding how much you can afford," said Sethi, who wrote "I Will Teach You To Be Rich."
'A week's pay for a month's rent'
Renters used to be advised to spend even less than 30% on housing, said Andrew Aurand, senior vice president of research at the National Low Income Housing Coalition. In 1969, the Housing and Urban Development Act required public housing residents to contribute just 25% of their earnings toward rent, Aurand said.
"That percentage stemmed from the Depression of the 1930s, when a common rule of thumb was 'a week's pay for a month's rent,'" he said.
In practice, there are a variety of factors that should determine what's the right share for a household to spend on their housing, Aurand said. For example, a married couple without children may be able to spend more on their rent than another married couple with the same income that does have kids.
One simple way to measure if your housing costs are affordable, Aurand said, is to calculate how much of your income is left over to cover your other bills once your rent is paid.
"After paying for their housing, does the household have adequate income to pay for their non-housing expenses?" he said. "If not, they are considered cost-burdened."
30% not a hard and fast rule
Renters shouldn't look at the 30% guideline as a hard and fast rule, said Allia Mohamed, co-founder and CEO of Openigloo, which allows renters to review buildings and landlords across the U.S.
"Every renter is different," Mohamed said.
High-income renters, for instance, should often spend below that threshold, she said. "Just because you make $300,000 a year doesn't mean you should rent an apartment for $7,500 just because you can," she said.
Meanwhile, a lower-income tenant may be able to direct more than 30% of their income to housing if they don't have other large recurring expenses, such as loan payments, Mohamed said.
She advises renters to create a detailed budget of their monthly expenses, but to also include what they'd like to be setting aside for savings and/or investments. This can help them determine how much is left over for housing costs.
'We can't throw our hands up'
Too many people, especially in expensive cities, decide that finding an affordable rent is unrealistic and then end up spending way too much, Sethi said.
"We can't throw our hands up at the biggest expense of all," he said. "We have to develop a real strategy for handling it."
Ideally, Sethi said, people should aim to spend no more than 28% of their gross income on their rent costs. (These include, he added, utilities, furniture, repairs, etc.)
"If you have no debt, you can stretch the number a bit," he said. In certain expensive cities, Sethi added, "they might spend 30%, 32%, even 35%."
However, he cautioned, "above that, you're exposing yourself to serious risk" in the event you lose your job or experience another setback.
Copyright CNBCs - CNBC