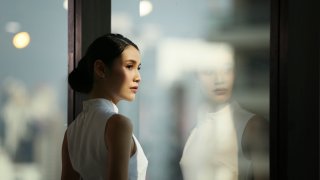 Despite some bright spots like low unemployment and slowly easing inflation, most economists still expect the U.S. to enter a recession before the end of the year, according to a recent Wall Street Journal survey.
While you might not personally feel the brunt of a recession through a layoff or other major loss of income, those who are already financially behind are at higher risk of a recession devastating their livelihoods. That could explain why women — who still earn less, on average, than men —  are more worried than men that a recession is coming, according to a recent Bankrate survey. 
Not only are 74% of women (compared to 65% of men) worried about an economic downturn, but nearly half of women say they're unprepared if the U.S. does enter a recession this year, Bankrate found in a survey of nearly 2,400 adults. 
Recessions can affect people differently regardless of gender, but Bankrate found several indications that women are at greater risk of facing trouble if a recession happens. Many women are taking steps to avoid potential disaster.
Credit card debt outweighing women's emergency savings
Inflation has been weighing heavy on plenty of Americans for the last two years, cutting into or wiping out any extra savings they were able to build up during the pandemic. In fact, 56% of folks would be unable to cover a $1,000 emergency with their savings according to a recent Bankrate survey.
The Fed is using rate hikes to try to get prices under control, but that also makes it more difficult for you tackle high-interest debt, especially from credit cards.
Women are more likely than men to carry credit card debt that exceeds their emergency savings. Just 32% of men have credit card balances higher than their emergency fund compared with 40% of women.
"Prioritize [paying off] high-interest debt if you have it," Alex Gailey, senior data reporter at Bankrate tells CNBC Make It. "Debt has been getting more expensive with the Fed raising rates, so try to chip away at credit card debt or any other high-interest debt as much as your budget allows."
Aim to earn more, but tackle the goals you're able to
Boosting your savings or quickly getting out of debt might be easier said than done. One solution is to find ways to increase your income. Asking for a raise or promotion at your current job might work, but companies are preparing for a recession, too, and may not be eager to bump up your salary. 
Gailey says now could be a good time to find a higher-paying job and make the switch, but not to do this solely for a bump in pay.
"Money alone isn't a reason to move jobs. It should also make sense for your short — and long — term professional growth," she says.
Additionally, it's important to keep your financial goals realistic. If you're not able to increase your income and saving three to six months' worth of expenses isn't feasible right now, it's okay to take smaller steps. 
"Putting as little as $10 or $20 away weekly in a savings account can make a significant difference over time," Gailey says. "Plus, it allows you to build the habit of paying yourself first."
How women are getting ahead
Though the cards may be stacked against women, they are doing their best to prepare for a coming recession. Women are more likely than men to report cutting back on discretionary spending, saving more for emergencies and looking for additional income, Bankrate found. 
Plus, just 24% of women said they're not doing anything to prepare for an economic downturn, compared to 27% of men.
Some women feel confident in their ability to handle a recession in the coming year, with 39% of women feeling somewhat prepared and 13% feeling very prepared for a recession before the end of 2023. 
If you fall into this camp, now is a great time to focus on investing for the future. Boosting your 401(k) contributions, adding to an individual retirement account (IRA) or opening a brokerage account are just a few ways to get started.
"Investing in the stock market is one of the most democratic ways to build wealth because the stock market doesn't care about gender or race," Gailey says. "Remember to maintain a long-term mindset, even if there's market volatility. Historical data shows that staying the course is a winning investment strategy."
DON'T MISS: Want to be smarter and more successful with your money, work & life? Sign up for our new newsletter
Get CNBC's free Warren Buffett Guide to Investing, which distills the billionaire's No. 1 best piece of advice for regular investors, do's and don'ts, and three key investing principles into a clear and simple guidebook.
Check out: 64% of women say they could do their boss's job better than them, but they aren't getting the chance
Copyright CNBCs - CNBC