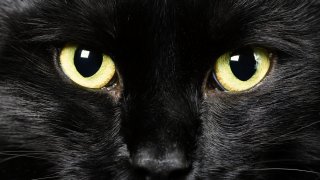 Big banks including JPMorgan and Bank of America reported earnings.
Tesla cut prices on some of its vehicles in the U.S. and Europe.
Apple CEO Tim Cook took a pay cut for 2023.
Here are the most important news items that investors need to start their trading day:
1. Will luck hold on Friday the 13th?
Stocks are on a roll. The Dow and the S&P jumped Thursday, after December's consumer price index showed inflation slowed down, as expected. The Nasdaq registered its first five-day winning streak since July. But it's time again for companies to report quarterly earnings, and for the superstitious among us, Friday the 13th isn't the best day to kick off the season. Big banks and Delta are up first (more on those below) as investors digging into the numbers. Read live markets updates here.
2. Big banks start reporting
JPMorgan Chase, Wells Fargo and Bank of America all reported earnings Friday morning, as investors look to Wall Street for evidence about the economy's health and insight about where things are headed. BofA and JPMorgan both beat the Street as higher rates helped bolster interest income. JPMorgan CEO Jamie Dimon on Friday said the U.S. economy "remains strong" but warned of potential turbulence stemming from Russia's war in Ukraine and still-high inflation. Citigroup, meanwhile, reported a decline in fourth quarter profit.
3. Delta earnings arrive
Delta results easily topped estimates Friday, as the airline weathered higher costs to finish 2022 on a strong note. The company's adjusted earnings per share $1.48, while its revenue came in at $13.44 billion, which marks an increase from the pre-pandemic fourth quarter of 2019. Wall Street analysts were expecting $1.33 in earnings a share and $12.23 billion in revenue, according to Refinitiv. However, its earnings guidance for the current quarter came in a little soft. The company said it expected a range of 15 cents to 40 cents a share, while analysts were expecting 55 cents a share. Delta's earnings came a day after competitor American Airlines boosted its outlook for the fourth quarter.
4. Tesla cuts prices in U.S., Europe
Tesla has cut the prices of some of its vehicles in the United States and Europe after wrapping up a fourth quarter that saw its deliveries fall below expectations. Tesla has long been the top dog in the electric vehicle space, but its competition is growing. Interest rates also surged last year, which made financing new cars more expensive for consumers. Tesla CEO Elon Musk is also widely considered to have damaged the company's brand due to his chaotic, controversial and high profile takeover of Twitter. Shares of Tesla are about flat so far in January after falling more than 60% in 2022.
5. Tim Cook takes a pay cut
Tim Cook asked for a pay cut, and that's what he got. The Apple CEO requested the downgrade after a board vote on his pay package – and after a bad year for the company on the stock market. But 2022 wasn't kind to much of the tech world, either, and the board said it maintained its confidence in Cook. So what does Cook's pay cut look like? Last year, he made a total of $83 million in stock awards, $12 million in incentives and $3 million from his salary. This year, he's set to make $49 million in total compensation.
– CNBC's Samantha Subin, Hugh Son, Jesse Pound, Lora Kolodny, Leslie Josephs and Kif Leswing contributed to this report.
— Follow broader market action like a pro on CNBC Pro.
Copyright CNBCs - CNBC